Discover nail art to enhance your looks
We have beautiful nail art designs for your wedding day, engagement, family celebrations, party or holiday or add some nail beauty to your everyday life. We have many nail art designs you can choose from, or together we can create something special for you. We also use nail art effects and nail jewellery to enhance the artwork.
Let us bring a new level of beauty to your nails
Nail art is for natural and artificial nails; It's a good way of enhancing your look and accessorizing yourself based on what will match the outfit that you're wearing. We can decorate your nails with precious stones, metals, stickers, beads, glitters, plastic stars, plastic or dry flowers, jewellery with nail piercing and others.
This place is a hidden GEM!
This place is a hidden GEM! They are located upstairs of 1 Dixon Street so if you don't know about then you wont walk past.
They can do anything you could possibly imagine when it comes to designing nails. Choose whichever design you want from the Japanese books and they can do it EXACTLY THE SAME!
I got 3D bows on my nails and they did it exactly as i wanted it. Will be coming back soon!
Nina Bow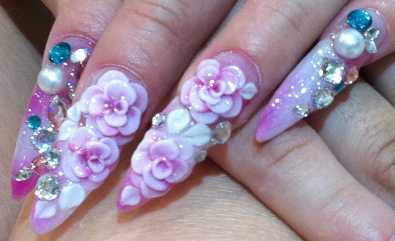 Nail Art
| | | |
| --- | --- | --- |
| Nail Art | each from $5 or full set from $25 | |
| 3D Design | | Fr $40 |
| Piercing | | Fr $10 |